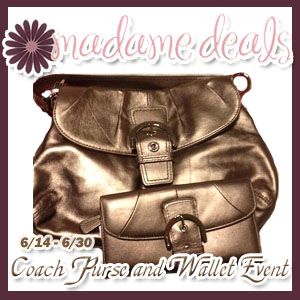 COACH $348 SOHO LEATHER FLAP Silver-Bronze PURSE BAG F17217 Wallet SOHO F45622  awaits winners come June 14-30!
 Thanks to our hosts for helping us run this great giveaway:
Dixieland Product Reviews & Giveaways
Colleen's Book Nook
Still Blonde after all these YEARS
Saving More Than Me
Diva Fabulosa
Watch out for this giveaway! In the meantime, you can also participate in promoting this event. Sign up here!