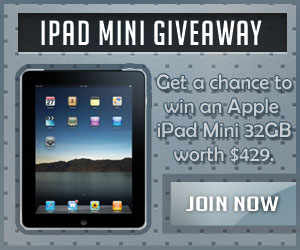 IPad Mini at stake! Join here http://designrshub.com/2012/11/apple-ipad-mini-giveaway.html !!!
This giveaway is brought to you by Designrshub, Web and Graphic Design Resources, Home Budget Tips, Places and Spaces and Online Tech Magazine.
Join  by entering this awesome giveaway to get a chance to win a brand new Apple iPad Mini worth $429. If you do not want the gadget, you can choose to claim the money's worth of the item. Or, you can add more money to upgrade the price to 64GB. It's up to you.
Who can enter? This is a Worldwide giveaway. Anyone, of any age, living on planet Earth can enter to win the iPad mini. There is absolutely no restriction. If you know how to use a mouse, a trackpad, or a Multi-Touch screen, then consider yourself eligible for this iPad mini giveaway.
How to win?
This giveaway will be run through Rafflecopter. Join contest here.
This giveaway ends on Friday, November 30, 2012.